eSUN Metal PLA 1.75mm 3D Filament 1KG
---
eSUN Metal PLA 1.75mm 3D Filament 1KG - Bronze / US is backordered and will ship as soon as it is back in stock.
---
Couldn't load pickup availability
Shipping Warehouse:
US-Shipping from US warehouse
UK - Ships from UK warehouse
Europe - Ships from DE warehouse
CAN- Ships from CAN warehouse

Shipping Times:
We ship within 1-2 business days of receiving the order and deliver within 7-14 days.(Will be postponed in case of holidays)
If you have any other questions, please contact us:Shopify@esun3d.com.
eSUN Metal PLA 3D Printer Filament 1.75MM Metallic Finish PLA 1KG (2.2 LBS) Spool 3D Printing Material For 3D Printers Metal PLA
Brand Name: eSUN
Origin: CN(Origin)
Form: Solid
Material: PLA
Diameter: 1.75mm
About this item
【Metal PLA】Metallic texture with the visual impact of reduced layer visibility, giving antique rustic touch. No extra painting, polishing or post-processing needed, it can output prints with frosted and grainy texture. Perfect for aesthetic creation of battle damage scenes and historical scenario.
【Stable Dimensional Tolerance】Minimum tolerance and low warping to ensure consistent feeding and stable prints, good layer bonding, less stringing, no bubbles, no cracking, no deformation, easy handling, resulting in an outstanding surface finish and are highly precise.
【Tangle Free & No Plugging】Full 1KG 3D printer filament reel, perfect roundness and very tight diameter tolerance, good winding, does not overlap or tangle. Melt well, feed smoothly and constantly without clogging the nozzle or extruder, high successful printing rate.
【Metallic Spray-free Appearance】Metal PLA adds metallic spray-free effect based on ordinary PLA, it provides a sense of the era, storytelling and enigmatic appearance, suitable for printing models of high cutting and large rounded surface. (Metal PLA has a metallic color appearance but does not contain metal powder.)
【Good Printability】Support structure is easy to peel off, smooth and flat printed surface; High toughness, not easy to break; Keep all the advantages of PLA, easy to print, low shrinkage, no deformation. Recommended Extrusion / Nozzle Temperature 190-230℃, Bed Temperature 45-60℃.
【Vacuumed Sealed Packaging】Filament Net Weight: 1KG. eSUN filament comes in a sealed vacuum bag with a desiccant bag, easily keep your 3D printer filaments at an optimal storage condition and free from dust or dirt before opening the vacuumed sealed packaging.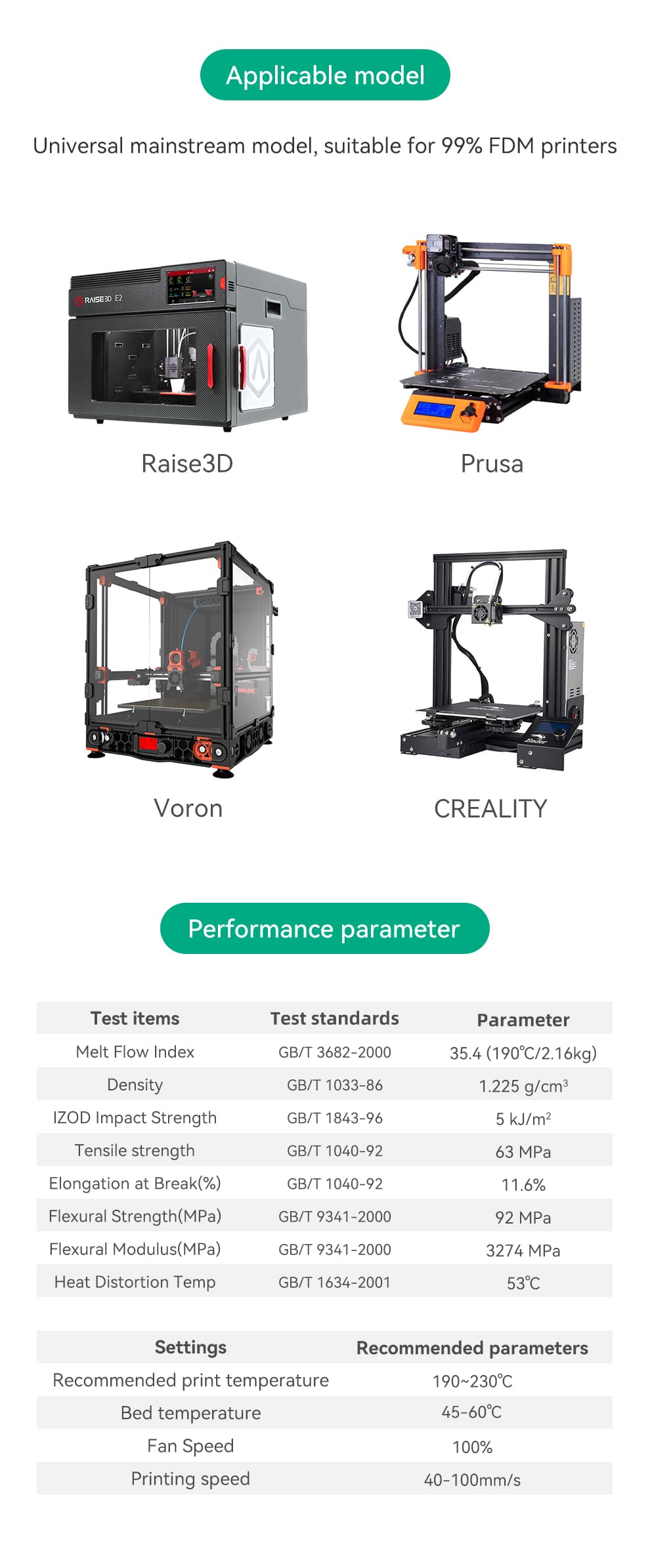 Payment & Security
Support PayPal and credit card multi-channel payment, account security guarantee!